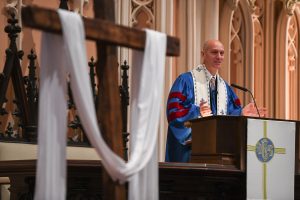 Our daily lives have been turned upside down as a result of the pandemic. At the end of my run this morning, I saw a woman pulling into the parking lot of the Mt. Royal Elementary School. She had two children with her. If I had to guess, I would say that she was a teacher, perhaps with her own two children. I imagined that, in a few minutes, she would be logging into her classroom while, a desk or two away, she kept an eye out on her own children as they logged into their classes. That's what I imagined.
Our own home was transformed into classrooms, from third grade to tenth, with each of our four children finding a place where they could "go" to class. There were the predictable snags of lost passwords, system updates (requiring a password no one could remember), and the garden variety system hiccups. Very foreign in some ways. But throughout, I also felt tender reminders of a world that may not be so far away as we imagine. It was a school day and that meant up earlier than usual, breakfasted, and dressed. Instead of lunchboxes, computers; instead of leaving your bundle of joy at the drop-off, with other kids and teachers, it was navigating the passwords and online environment. On the other hand, it felt familiar, too. Iris' teacher welcomed her by name; I was waved away by one of our older daughters who didn't want to be seen by her peers with her dad hovering nearby. Somehow, that felt familiar! Of course, it won't be easy this year for teachers, parents, and their children. Won't be easy for any of us. But maybe these rituals of assembly still hold valuable clues for all of us, young and old. Being welcomed and welcoming, these are invaluable in any season, but perhaps especially in this season. We probably need to tune our internal antennae for signs of God's saving health in the world. And, wherever possible, be agents of repair through kindness and good deeds.
Our neighbor has a beautiful red retriever. He's about a year old. Gabriel, 10-years old, was in the alley, shooting hoops. I could see the retriever trembling with excitement as if this might break out into fun. The repetitive thud of the basketball. A boy and a young dog, socially distanced by urban necessity, but still vibrating with the same joy in life. Perhaps surprisingly, I'm even comforted that my teenager wanted me as far away from her classroom as possible — that felt robustly normal despite all the other ways this feels so strange! I'm thankful for that small gesture of adolescent independence.
And there's our food pantry. A woman from the Bronx visited us on Saturday. She lost her uncle to COVID-19. She told how, in the Bronx, they would help each other by setting food outside a neighbor's door, so they would have something nourishing and hot to eat. She took a grocery bag with her . . . and we sent each other on our respective journeys with a blessing and a prayer. I'm thinking now of a quote from Maya Angelou: "Let gratitude be the pillow upon which you kneel to say your nightly prayer. And let faith be the bridge you build to overcome evil and welcome good" (Celebrations: Rituals of Peace and Prayer).
May it be so for each of us.
Your Pastor,
Rev. Robert P. Hoch, Ph.D. Pastor (Head of Staff)