Alternative Christmas Market | Sunday, 12 PM to 1:30 PM on November 24, 2019 and December 1, 2019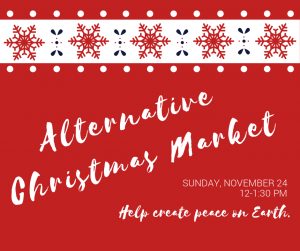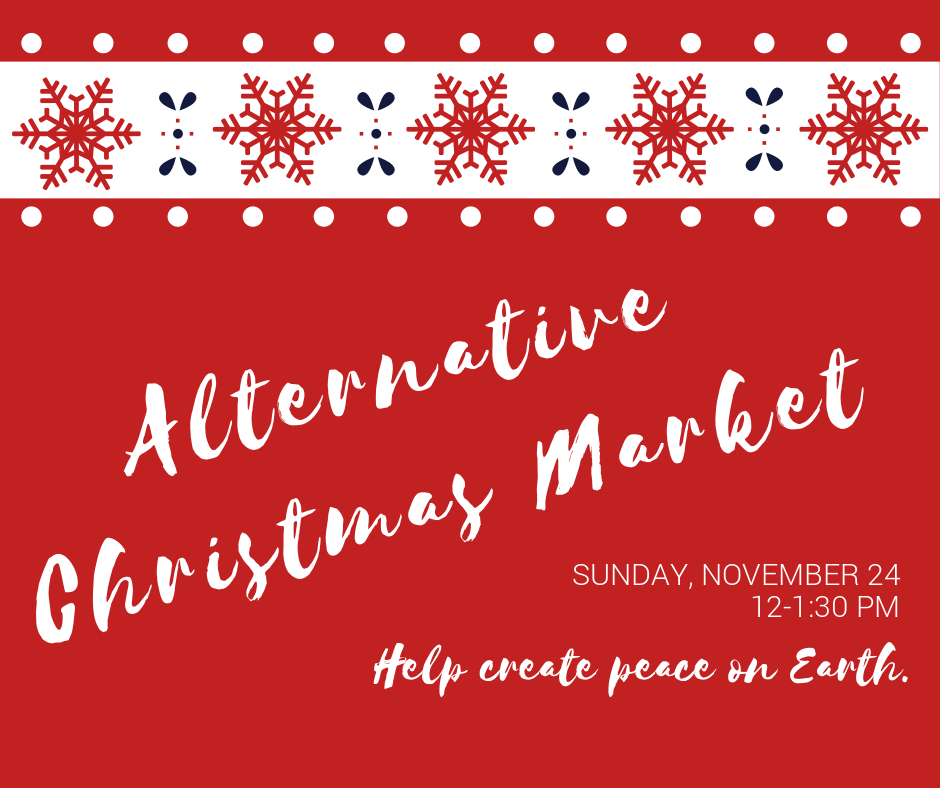 Please join us for the Alternative Christmas Market!
As the commercial world turns towards the holidays, we are turning to the Alternative Christmas Market on November 24 and December 1.
The Alternative Christmas Market is a way to fund good work in our community and around the globe while still crossing all those names off your list. Give a handsome card to your near and dear and do good by purchasing Christmas cards from the mission and social justice organizations and the Market. Your donations will go directly to the programs.
For more than two decades First & Franklin has invited the community to this festive event. There will be music, good food (please consider making a treat to bring to the event and share with the community), plenty of friends, and many organizations to learn about and to support year round. These are all 501(c)3 charities.
The first market (11/24) will feature representatives from many of our featured groups. If you can't make it that Sunday, you'll have another chance at the "mini-market" on December 1.
In Baltimore
Blue Water Baltimore is a grassroots environmental group that works to keep the waterways that flow into the harbor, and eventually the Bay, clear and beautiful through activism and environmental education.
Baltimoreans United in Leadership Development (BUILD) is an interfaith, multiracial, and strictly non-partisan organization working to revitalize neighborhoods, increase job opportunities, and rebuild schools and neighborhoods.
CARES, a project of Govans Ecumenical Development Corporation, is an emergency food pantry and social-support referral service.  Their goal is to help families escape the cycle of crises and move toward self-sufficiency.
CASA of Maryland supports immigrants with legal clinics, English classes and vocational training, after-school groups, housing advocacy and community organizing.
Immigration and Outreach Service Center
The Immigrant Outreach Service Center at St. Matthew Catholic Church was established in response to the immigration needs of many of its parishioners and is now an independent non-profit organization that has served over 4000 people.
The Family Survivor Network is a community organization offering counseling, support for memorial service planning, peer support groups and other assistance to families who have lost a loved one to homicide.
The Food Project aims to empower southwest Baltimore through food access. One of its programs is a business-training project, where youth make a snack called Seedy Nutty. Try some at the Market!
Safe Streets violence interrupters work to prevent shootings by interrupting and mediating tense situations before they escalate to violence. Other Safe Streets staff work with victims of violence in hospitals and do school violence prevention programs.
THREAD creates an extended family to working to eliminate the barriers that stand between underperforming students and a high school diploma.
The coalition is dedicated to breaking the cycle of homelessness by providing safe, housing and support services to homeless women and families.
YES is a drop-in center for homeless youth and young adults (ages 14-25), that meets basic needs for food, clothing and access to a safe place to clean up and rest. It offers support groups and case management services along with referral to other services.
Around the World
Baltimore and Dakota Learning Camps
BDLC is an educational partnership between the Dakota Presbytery and the Presbytery of Baltimore, providing educationally enriching summer camps for children in the church communities within the Dakota Presbytery.  Donations will help purchase classroom and craft supplies.
A collective Christian voice urging our nation's decision makers to end hunger at home and abroad, Bread for the World is a letter-writing mission.
We'll be selling coffee beans to support Connect Rwanda, a group that aims to bring technology to the classrooms of Rwanda.
A mission project between El Centro Presbytery and the Baltimore Presbytery, the Cuban Partnership is a mission of accompaniment. Our congregation has formed a partnership with the Presbyterian Church of Taguasco, Cuba. Funds raised will sponsor scholarships to members of Taguasco for visiting our congregation.
In the days after the tragedy in Parkland, Marjory Stoneman Douglas High School students strived to ensure that what happened at their school never happens again. To that end the organization founded by survivors works to fund gun violence research, enact universal background checks, and support other steps to reduce gun violence.
Presbyterian Disaster Assistance
 Throughout the world, believers experience the call of God to respond together in times of local, regional or national crisis. This year, donations to the Presbyterian Disaster Assistance will be given to support hurricane relief efforts in the Bahamas.