Song of the Sparrow | June 21, 2020
Song of the Sparrow
Robert P. Hoch
June 21, 2020
First & Franklin Presbyterian Church
Baltimore, MD 21201
Romans 6:1b-11

1bShould we continue in sin in order that grace may abound?2By no means! How can we who died to sin go on living in it?3Do you not know that all of us who have been baptized into Christ Jesus were baptized into his death?4Therefore we have been buried with him by baptism into death, so that, just as Christ was raised from the dead by the glory of the Father, so we too might walk in newness of life.

5For if we have been united with him in a death like his, we will certainly be united with him in a resurrection like his.6We know that our old self was crucified with him so that the body of sin might be destroyed, and we might no longer be enslaved to sin.7For whoever has died is freed from sin.8But if we have died with Christ, we believe that we will also live with him.9We know that Christ, being raised from the dead, will never die again; death no longer has dominion over him.10The death he died, he died to sin, once for all; but the life he lives, he lives to God.11So you also must consider yourselves dead to sin and alive to God in Christ Jesus.

Matthew 10:24-39
24"A disciple is not above the teacher, nor a slave above the master;25it is enough for the disciple to be like the teacher, and the slave like the master. If they have called the master of the house Beelzebul, how much more will they malign those of his household!

26"So have no fear of them; for nothing is covered up that will not be uncovered, and nothing secret that will not become known.27What I say to you in the dark, tell in the light; and what you hear whispered, proclaim from the housetops.28Do not fear those who kill the body but cannot kill the soul; rather fear him who can destroy both soul and body in hell.29Are not two sparrows sold for a penny? Yet not one of them will fall to the ground apart from your Father.30And even the hairs of your head are all counted.31So do not be afraid; you are of more value than many sparrows.

32"Everyone therefore who acknowledges me before others, I also will acknowledge before my Father in heaven;33but whoever denies me before others, I also will deny before my Father in heaven.

34"Do not think that I have come to bring peace to the earth; I have not come to bring peace, but a sword.35For I have come to set a man against his father, and a daughter against her mother, and a daughter-in-law against her mother-in-law;36and one's foes will be members of one's own household.37Whoever loves father or mother more than me is not worthy of me; and whoever loves son or daughter more than me is not worthy of me;38and whoever does not take up the cross and follow me is not worthy of me.39Those who find their life will lose it, and those who lose their life for my sake will find it.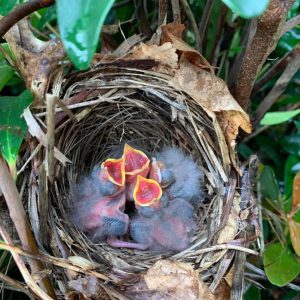 Jesus had his eye on the sparrows.
Maybe their lives seemed like our own. If you're a sparrow, life feels precarious, dangerous, uncertain . . . If you're a sparrow, you might be here today and gone tomorrow, and no one would know the difference, or particularly care. If you're a sparrow, the things that concern you may seem trivial, insignificant by the world's standards. We quarrel in our church trees, puff out our chests, bound along thin branches to menace one another as we squabble over a few seeds, or snatch at stray crumbs left by shadowy being, which must seem to our sparrow's eye like some strange, arbitrary seed-god, a seed-god of uncertain character, a seed-god who gives one day but is dangerous and capricious the next. And so, if we sing, our songs often break in alarm or fall entirely silent as we flee for our lives.
Jesus had his eye on the sparrows.
Maybe Jesus remembered how the psalmist, too, had once meditated on the tiny birds that clustered in the corners of the temple's grandeur: "Even the sparrow finds a home, and a swallow a nest for herself, where she may lay her young, at your altars" (Psalm 84). Amongst the grandeur of the temple, a fragile life. Even if that psalm wasn't in Jesus' mind, we know Jesus taught from life rather than books. Consider the lilies of the field, he said. Or the woman who leavened three measures of flour for bread, he said.
Today's text may be similar. Or perhaps darker. As Jesus spoke to his disciples, he did not see the sparrows flitting through the air; or the swallow nesting with her young. What he saw were people selling tiny sparrows in the market, ten to a bunch. Apparently, that was a product, perhaps a food source for the very poor (Eugene Boring, "Matthew" in The New Interpreter's Bible). Birds strung together on a string. A halfpenny each was the going rate. Imagine the limp bodies of these birds, probably hanging upside down. If they were still alive, they would be in a state of shock; think of the image of these birds, ten to a bunch, swinging on the arm of a person, probably a poor woman or a child, selling them, calling out to anyone, "Two for a penny, two sparrows for a penny!" And most people walking by, hardly hearing the sing-song voice of a product for sale.
It wasn't the song of the sparrow; it was the lament that didn't cause tears or engender terror; it was repeated, probably mindlessly, all day long. It wasn't worth much to the world that these little sparrows had lived and died. Not compared to things that matter. We know of course it wasn't the sight of sparrows that haunted the disciples; it was the fear that their lives were expendable; that their lives didn't amount to much in Rome's economy; that their lives were remembered neither by the world nor by God. And people were afraid.
And when sparrows feel threatened, their songs stop and they scatter. But not always. A sparrow whose name you may or may not know, though her song is familiar enough. Seventeen years old, Darnella Frazier was babysitting, walking home with a young relative, from shopping. She was foraging in urban Minneapolis, foraging for life where white power and a white economy would occasionally throw a few crumbs . . . or perhaps not. And other days, the seed-god of white America is homicidal.
As you probably have guessed by now, Darnella was the young woman who filmed the now infamous 8 minutes 46-second long ordeal that ultimately ended with the death of George Floyd in police custody. It wasn't really news that she was reporting, according to Colbert King, a Washington Post columnist. He quotes from Harry Truman's Committee on Civil Rights, which documented official misconduct by police 75 years ago, describing police as "trigger happy" and producing fabricated narratives of self-defense, and just plain shoddy police work. We think the Gun Trace Task Force was something new.
(America Has Always Known About Systemic Police Brutality" in The Washington Post (19 June 202), accessed at https://www.washingtonpost.com/opinions/this-country-has-always-known-about-systemic-police-brutality-will-we-finally-do-something-about-it/2020/06/19/fcf0b246-b1a8-11ea-8f56-63f38c990077_story.html).
That was 75 years ago. Despite protestations of white shock and white horror and our supposedly recently discovered bad behavior (gasp, we never knew!) maybe white America just gets on with business. What the market will bear — two for a penny — as we blithely sing the songs of our legal eagles, high priests of profit and loss, and grand wizards, stable geniuses, and so on.
Think on the song of another sparrow, Hafsa Islam, daughter of a restaurant owner in Minneapolis. It's a Monday night, same place, same hour, same minute even as that witnessed by Darnella, but this sparrow is driving to the Gandhi Mahal, her father's restaurant. As Hafsa passes through South Minneapolis, she sees police arresting a man near a Cup Foods convenience store:
I slow down and watch the man. He's being walked away in handcuffs, and he's complying, but I still watch worried from my car, worried at what I see happening and what might happen next to a black man in police custody. I remember this man's face well. It sticks with me. He was crying, and he was in pain (Hafsa Islam, "Let It Burn" in The Washington Post (31 May 2020), accessed at https://www.washingtonpost.com/opinions/2020/05/31/my-familys-restaurant-caught-fire-protests-let-it-burn-oppressive-systems-with-it/).
During the unrest that followed, her father's restaurant, named after Gandhi, a man of peace, was burned to the ground.
Another sparrow, Kevin Blackistone, an ESPN journalist and professor at the University of Maryland. He can't watch the videos of police brutality anymore. He doesn't dispute the evidentiary value of these materials or the power of social media to uncover America's deep-seated racist identity. But he can't watch them anymore. Or he refuses to watch them, to be seduced by the psychology that forms around these films. "What concerns me," he says, "is the side effect of these real-life snuff films looping on cable news and social media platforms [from morning to night — I worry about the side effect] on the valuation of black life." He worries that these videos have blurred into sports entertainment culture, where instant replays are the norm, the iconic expression of American sport. He notes that Darnella's video of Floyd dying in police custody has been viewed more than 100,000 times from her Facebook page alone.
He says that comes with its own costs and cites a 2017 National Institutes of Health study, that found that watching these videos in an endlessly sanctioned cultural loop has the impact that "we [Black people are at risk of seeing] our lives as 'disposable, and undeserving of dignity and justice" (Kevin Blackistone, "Why I Can't Watch the Police Videos Anymore" in The Washington Post (12 June 2020) accessed at https://www.washingtonpost.com/opinions/2020/06/12/why-i-cant-watch-police-videos-anymore/?arc404=true).
I hear a pastor's voice in Blackistone's words. Not unlike Jesus' words to the disciples who had probably seen more than a few of their own fall from the sky, there one second, gone the next. Jesus sayings were addressed to the disciples, to people who had already decided to follow him. And yet, they may have had some questions about where and to whom Jesus was preparing to send them. Jesus says in this chapter that he was sending his disciples out as sheep among wolves; that they should be as innocent as doves and wise as serpents. And yet again, he switches animals, sheep, doves, serpents, and now on to sparrows — their lives didn't seem to amount much in the Roman economy.
They would also be maligned, but Jesus says that's what they did to me, too. Jesus quotes what people have said about him, from earlier in Matthew, that he was possessed by a demon, Beelzebul. It was a form of slander or character assassination. Like maybe mentioning that George Floyd was suspected of passing a counterfeit $20 bill — character assassination to hide bodily assassination. Jesus says if they say things about me, like they say, I am a glutton, an addict; if they say things about me, that I am a protester, an agitator, an anarchist, or a lowlife; if they say about me that if he could save others, why does he not save himself?, if they say such things about me, your teacher, your Lord, you may expect that they will say such things about you.
But your life is not reducible to the things the powers say; God says you are fearfully and wonderfully made, beyond calculation. Jesus announces that there is not a sparrow in the sky, or a sparrow in the trap or a sparrow slung like a dead man on a rope, that is not known by God, loved with the fierce, hard, terrible love of God.
Jesus speaks in this way because there was understandable fear among his disciples. Around the time of Matthew's audience, Nero, one of the most violent emperors in Roman history, was blessing the slaughter of Christians as a form of entertainment. Rome viewed certain groups of people (Christians and Jews) as disposable people. And maybe the disciples, knowing this, were tempted to keep their meetings with Jesus private. Kept Jesus' preachings and prayings at a whisper, and in the closet.
Fear and cooptation by fear . . . maybe this is Jesus' diagnosis of the sickness gripping the disciples. It certainly is suggested by the second part of his sermon, beginning at verse 31: (1) have no fear; (2) do not fear; (3) do not be afraid. Jesus says don't let your fear make you small. Remember, this is the God who created us and in God's own image.
Then Jesus says, for the first time in this gospel, take up your cross and follow me. Sparrows nest in trees, perhaps even in a disused cross, but they seldom "take up" the tree . . . that's difficult for the common sparrow. But then again, so far as I can remember, sheep don't speed date with wolves; or suddenly turn into doves; or shape-shift yet again into snakes that can slip in and out of difficult situations with barely a hiss and a twitch.
Nor, incidentally, does the dead animal of the human ordinarily rise from its grave. Unless, God has numbered us as God's own — called us to be one of Christ's resurrection uprisings, today, in this world, flying in the face of its god of white terror, a stable genius. Nero knows us not by name. But God knows us by name and calls us to come and follow him, against our fears, against our wants, perhaps even against our nature, to be a resurrection people.
Or to be sparrows on the wing, panting with resurrection song, aspiring towards freedom and human dignity.
We can learn from the not quite common house sparrow. Hafsa Islam, the daughter of the restaurant owner in Minneapolis, the brown-skinned woman who saw one of God's sparrows fall from the sky . . . in the ensuing riots that swept through their neighborhood, she and her father and probably the family, opened their restaurant as a makeshift safe house, tending to those who had been tear-gassed and stunned by rubber bullets. She says they fed these battered souls daal for good measure.
That was on Tuesday and Wednesday. And then, sometime between Thursday and Friday morning, the building that had held her father's dreams, their livelihoods, and the "just minted memories of helping these same protesters" was burned to the ground.
First, she felt anger. Hafsa went to see her father, saw the pain in his face; how he had lost everything, the restaurant that he had built, and which had survived more than a few crises; the micro-farm he had in the basement; gone. But then, in another second, she felt a flash of realization. Hafsa overheard her father: "Let my building burn," he said. "Justice needs to be served. Put those officers in jail." Hafsa realized that you can rebuild a building, but you can't bring back the life of George Floyd. They are a family of peace, not violence. And they will continue to be a family of nonviolence. But, she says, even this affliction has summoned out of her an even more precious commodity: empathy. The building may have burned to the ground, but not the spirit of compassion (Islam, "Let it Burn" in The Washington Post).
Darnella posted that video to Facebook, not so that it could be replayed hundreds of thousands of times, either in virtual reality or everyday reality. She posted it so that this one did not fall from the sky without a name, without a memory. This one counts is what her action says to me. People have said all kinds of things about her. Why didn't she do more? Filming as a man cries out for breath, for mom? She wanted her moment of fame, they said, as an internet sensation. Last I checked, she was in hiding. Traumatized not only by what she saw but also by the way many were happy to malign her character. Does she regret doing it? I can't even imagine what she feels. It is more helpful to remember what she was doing. Maybe she had stopped into a Cup Food convenience store. She was looking after a young relative. She's 17-years old, a junior in high school.
You know, none of us were looking for this. Certainly not here, in this place. But around here, in this place, black lives matter. Sarah Lloyd, a member of our Session, has written a statement on Session's behalf that she's going to share in a few minutes. She wrote, she said, as a kind of confession. It doesn't fit into the loop of violence, but into God's narrative of resurrection song.
It may make us think about our testimony. Consider who we nest with as one of God's congregations in Baltimore. See whose flag graces the front of this steeple. Sometimes what we say, and the cross we carry creates division. Buildings may burn. But by God's grace and to God's glory, communities shall rise . . .
and even the sparrow shall rise as on the wings of eagles.
May it be so for all of us.
Amen.