June 13, 2020
Dear First & Franklin Family,
In our joint Pentecost Sunday service with Madison Avenue Presbyterian Church on May 31, our congregations read together a confession written together by Rev. Rob Hoch of First & Franklin and Rev. Phyllis Felton of Madison Avenue. This confession served the purpose of reconciling the histories of our two churches--one predominantly White and one predominantly Black--but is also a recognition of the flashpoint in the history of our country through the recognition of the latest murders of unarmed Black Americans under the knee of white supremacists and law enforcement. We committed to saying their names and we confessed our sin of complacency with the system that was founded on racist principles by racist people to preserve racial inequity and White supremacy in this country.
George Floyd. Breonna Taylor. Tony McDade. Ahmaud Arbery. Sandra Bland. Freddie Gray. Eric Gardner. Tamir Rice. Trayvon Martin. Michael Brown. Philado Castile.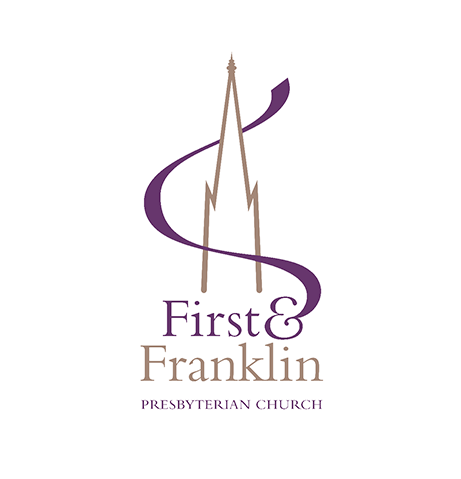 Amplified by the murder of George Floyd in Minneapolis at the hands of a police officer, our country seems to have come to another moment of reckoning--one that would be deliberately harmful to ignore. It is the staunch position of First & Franklin Presbyterian Church that Black Lives Matter. With no condition or hesitation, we affirm that ALL BLACK LIVES MATTER--Black men matter, Black women matter, Black children matter, Black LGBTQ+ individuals matter--not only because of who we say they are but, more importantly, because of who God says they are. All people in this world are fearfully and wonderfully made (Ps. 139:14) in the image of God Almighty (Gen. 1:27), who commands us to do justice and love mercy (Mic. 6:8). First & Franklin is committed to living out these words of God in our church community, in our city, and in the world.
In his book How To Be An Antiracist, Black author, activist, and educator Ibram X. Kendi quotes the Black theologian Tom Skinner, who says "Any gospel that does not...speak to the issue of enslavement, injustice, and inequality--any gospel that does not want to go where people are hungry and poverty-stricken and set them free in the name of Jesus Christ--is not the gospel." We confess and acknowledge that the position of predominantly White churches in this country has often been on the side of the oppressor. We confess and acknowledge our own church body's culpability in perpetuating and causing racial harm. We humbly and optimistically commit to doing the antiracist work necessary that will lead to reconciliation, empowerment, and the uplift of our Black siblings. We commit to using our platform to uplift and amplify Black voices, viewpoints, and leaders. Because we believe that no one is born to hate, we commit to raising our children in an environment that is racially conscious and rooted in the radical and inclusive love of Jesus Christ to ensure a bright future for the Black community.
With humility, we request prayers and guidance as we continue to look inward at our own shortcomings and focus our attention outwards to fulfill God's command to love our neighbors.
Grace and Peace,
The First & Franklin Session
Written by Sarah Lloyd, Session Elder, on behalf of the First and Franklin Session, June 13, 2020