Welcome to the 2023-2024 Spire Series Season
Welcome to the Spire Series! We are committed to building community through the presentation of extraordinary performance artists in one of Baltimore's most beautiful sacred spaces. The series features local, national, and international talent and includes both free and ticketed concerts
You can find the 2023/2024 season below. Single tickets are still available for every concert.
Please consider becoming a donor by clicking the button below or by making an additional donation with your ticket purchase.
Your generous donation allows us to offer top-tier arts programs at First & Franklin. Your donation also provides educational opportunities for students and community access to tickets and artistic opportunities.
2023-2024 Spire Series Season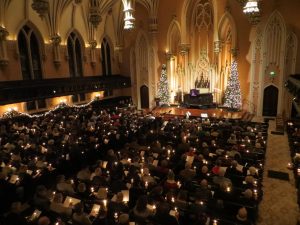 Sunday, Dec. 10 | 4:00pm

Candlelight Choral Concert
The First & Franklin Sanctuary Choir, directed by Jason Kissel, will present their annual Candlelight Choral Concert. This yearly tradition celebrates the holiday season with choral music including Vivaldi's Gloria with Baroque ensemble and carols. We also welcome gifted harpist and friend of the choir Jacqueline Pollauf. Join us in the glow of the candlelight to revel in music, beauty, and the joy of Christmas.
No Tickets Required - Free Will Offering Will Be Accepted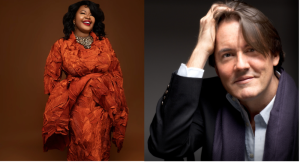 Friday, Mar. 8 | 7:30pm

Karen Slack, soprano

Mark Markham, piano
Hailed for possessing a voice of extraordinary beauty, a seamless legato and great dramatic depth, American soprano Karen Slack has garnered international renown for her artistic versatility, charisma and entrepreneurial endeavors. A recipient of the 2022 Sphinx Medal of Excellence, Slack is known for her dynamic and passionate performances in both lead operatic roles and on the concert stage; as a sought-after collaborator, curator, and artistic advisor; and for her ground-breaking approach to engagement.
Pianist Mark Markham is widely recognized as one of the great artists of his generation. His international career encompasses performances in North and South America, Europe, Asia, and the Middle East. Equally at home as a soloist, a collaborator with some of the finest singers in the world, a jazz pianist, or a vocal coach, his interpretations have been praised by the public and press alike. The Baltimore Sun praised his performance of Liszt and Chopin for his "big, rich tone," "abundant power" and "sensitively using a wide palate of tone coloring."
Friday, Apr. 12 | 7:30 pm

Svet Stoyanov, percussion
Praised by the New York Times for his "understated but unmistakable virtuosity" along with a "winning combination of gentleness and fluidity," Svet Stoyanov is a driving force in modern percussion. Winner of the prestigious Concert Artists Guild International Competition, Svet was also presented with the Johns Hopkins University Alumni Award. He has been a featured concerto soloist with the Chicago, Seattle, and the American Symphony Orchestras, as well as solo performances in Lincoln Center, Carnegie Hall, Kennedy Center and Taiwan National Concert Hall. Svet returns to The Spire Series with a dazzling program that will showcase the full spectrum of sound through a wide variety of instruments!
Artist Website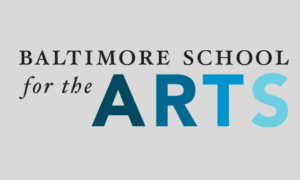 Thursday, May 23 | 7:00 pm

Armstrong Honors Recital
The Spire Series is proud to host its close neighbor, Baltimore School for the Arts, for the annual Armstrong Honors Recital. This special event showcasing select members of the graduating class of 2024, is named for one of Baltimore's great educators and BSA founder, Margaret Armstrong. Admission to this event is free.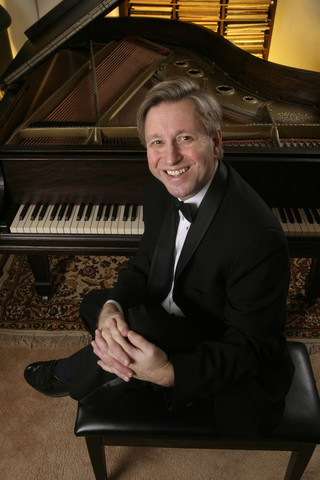 Sunday, June 2 | 3:00 pm

Paul Bisaccia

Prelude to Pride
Paul Bisaccia is the first artist to have recorded the complete solo piano music of Gershwin, and his PBS television special Gershwin by Bisaccia has been broadcast throughout the U.S. and viewed by millions. The American Record Guide says, "For Gershwin interpretations, Bisaccia wins hands down." Michael Feinstein calls Paul Bisaccia and the Great American Piano his second television show for PBS, "imaginative, fun, well played and totally satisfying." It is fitting, then, that Bisaccia's all-Gershwin program for The Spire Series will feature the beloved composer's Rhapsody in Blue.
Artist Website
PAST CONCERTS
(2023-2024 Season)
Latino-American jazz pianist Joshua Espinoza blends and bends genres into songs that are immediately relatable yet hard to define. He has performed with such luminaries as Sean Jones, Warren Wolf, Miho Hazama, Jihye Lee, and Chuck Redd. Alongside bassist Kris Monson and drummer Jaron Lamar Davis, the Joshua Espinoza Trio explores the undefined space between jazz improvisation, classical chamber music, pop music, and folk traditions. His debut album "Journey Into Night" is available on all platforms.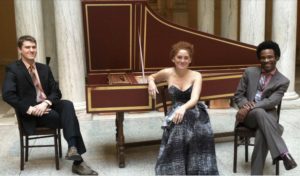 Friday, Nov. 3 | 7:30pm

S'amusant
S'amusant is one of Baltimore's newest musical ensembles, featuring extraordinary artists Wade Davis (cello), Patrick Merrill (harpsichord), and Melissa Wimbish (soprano). The group's program, Dreams and Fantasies will cross boundaries from its early music roots to explore the music of Beethoven, Schumann, and Arvo Pärt. The group says, "Our mission is to perform this music with style and panache, and to have fun while doing it."
Program to include:
Beethoven | Cello Sonata No. 2
Schumann | Fantasy Pieces
Schumann | Selections from Frauenliebe und leben
Chopin | Etude, Op. 10, No. 3 "Tristesse"
Arvo Pärt | Spiegel im Spiegel
PAST CONCERTS
(2022-2023 Season)
Mexican American tenor Joshua Diaz partners with pianist Mark Markham in music by John Carter, Henri Duparc, and Richard Strauss, along with his interpretation of mariachi songs, a reflection of his family's heritage.
Read More
Wade Davis, a Baltimore-based baroque cellist is in high demand as a solo performer and chamber music collaborator. He regularly performs with the Washington Bach Consort and the Folger Consort.
Read More
The First & Franklin Sanctuary Choir with conductor Jason Kissel are joined by harpist Jacqueline Pollauf, US Armed Forces Brass, and organist Kathie Metz in this annual concert of choral music for the seasons of Advent and Christmas. Opening with a stunning setting of O Come, O Come Emmanuel, the concert will feature John Rutter's Gloria along with other music of the season.
The father-son team of Ken & Brad Kolodner weave together a captivating soundscape on hammered dulcimer and clawhammer banjo, blurring the lines of Old-Time, Bluegrass and American Roots music, joined by Alex Lacquement (bass, banjo) and Rachel Eddy (fiddle, guitar, vocals, banjo).
More about Ken & Brad Kolodner: https://www.kenandbrad.com/
Jessica Tong, violinist, and Michael Sheppard, pianist, share a rare, singular vision in their approach to music-making and have presented adventurous programs that integrate both well-loved and lesser-known masterpieces for violin and piano.
The Armstrong Honors Recital will feature selected students of the Class of 2023 from the Baltimore School for the Arts. This recital is named for one of Baltimore's great educators and BSA founder, Margaret Armstrong.
Noted for her musical command, cosmopolitan artistry, and visionary independence, Baltimore native, pianist Sara Davis Buechner makes a long overdue return to Baltimore and is one of the most original concert pianists and storytellers of our time. Sara, who is a proud transgender woman, will help us kick off Pride Month 2023.
Learn more about Sara Davis Buechner: http://saradavisbuechner.com/