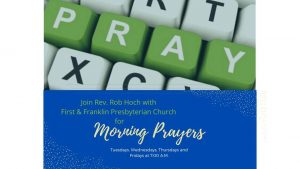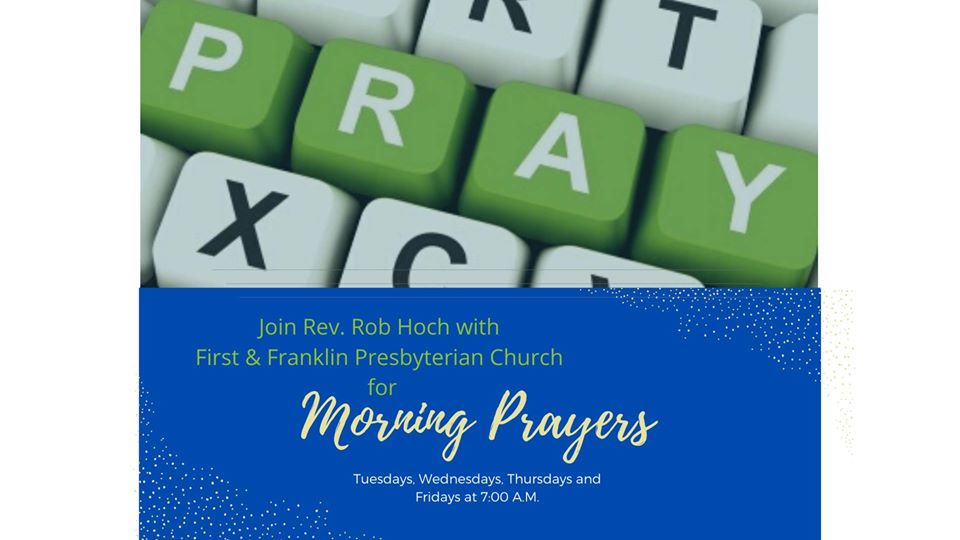 A daily opportunity for community prayer, scripture reading, and meditation. You are invited to join us at 7 a.m. from Tuesday through Friday for a virtual Zoom meeting (please see link information below), in which you may find strength for today and bright hope for tomorrow. The service lasts about 30 minutes.
Zoom Connection:
Daily Readings for Friday, August 28, 2020
Morning Psalms 88; 148
First Reading Job 9:1-15, 32-35
Second Reading Acts 10:34-48
Gospel Reading John 7:37-52
Psalm 88
1 O LORD, God of my salvation,
when, at night, I cry out in your presence,
2 let my prayer come before you;
incline your ear to my cry.
3 For my soul is full of troubles,
and my life draws near to Sheol.
4 I am counted among those who go down to the Pit;
I am like those who have no help,
5 like those forsaken among the dead,
like the slain that lie in the grave,
like those whom you remember no more,
for they are cut off from your hand.
6 You have put me in the depths of the Pit,
in the regions dark and deep.
7 Your wrath lies heavy upon me,
and you overwhelm me with all your waves. Selah
8 You have caused my companions to shun me;
you have made me a thing of horror to them.
I am shut in so that I cannot escape;
9 my eye grows dim through sorrow.
Every day I call on you, O LORD;
I spread out my hands to you.
10 Do you work wonders for the dead?
Do the shades rise up to praise you? Selah
11 Is your steadfast love declared in the grave,
or your faithfulness in Abaddon?
12 Are your wonders known in the darkness,
or your saving help in the land of forgetfulness?
13 But I, O LORD, cry out to you;
in the morning my prayer comes before you.
14 O LORD, why do you cast me off?
Why do you hide your face from me?
15 Wretched and close to death from my youth up,
I suffer your terrors; I am desperate.
16 Your wrath has swept over me;
your dread assaults destroy me.
17 They surround me like a flood all day long;
from all sides they close in on me.
18 You have caused friend and neighbor to shun me;
my companions are in darkness.
Morning Psalm 148
1 Praise the Lord!
Praise the Lord from the heavens;
praise him in the heights!
2 Praise him, all his angels;
praise him, all his host!
3 Praise him, sun and moon;
praise him, all you shining stars!
4 Praise him, you highest heavens,
and you waters above the heavens!
5 Let them praise the name of the Lord,
for he commanded and they were created.
6 He established them forever and ever;
he fixed their bounds, which cannot be passed.
7 Praise the Lord from the earth,
you sea monsters and all deeps,
8 fire and hail, snow and frost,
stormy wind fulfilling his command!
9 Mountains and all hills,
fruit trees and all cedars!
10 Wild animals and all cattle,
creeping things and flying birds!
11 Kings of the earth and all peoples,
princes and all rulers of the earth!
12 Young men and women alike,
old and young together!
13 Let them praise the name of the Lord,
for his name alone is exalted;
his glory is above earth and heaven.
14 He has raised up a horn for his people,
praise for all his faithful,
for the people of Israel who are close to him.
Praise the Lord!
Meditation
On the seemingly repetitive nature of life . . . GK Chesterton asks, "Is the fact that life consists of routine events and predictable patterns evidence that the universe is, essentially, dead or at least impersonal? Or more like monotonous clockwork than a living dance?"
People feel that if the universe was personal it would vary; if the sun were alive it would dance. . . . It might be true that the sun rises regularly because he never gets tired of rising. His routine might be due, not to a lifelessness, but to a rush of life. The thing I mean can be seen, for instance, in children, when they find some game or joke that they especially enjoy. A child kicks his legs rhythmically through excess, not absence of life. Because children have abounding vitality, because they are in spirit fierce and free, therefore they want things repeated and unchanged. They always say, "Do it again"; and the grown-up person does it again until he is nearly dead. For grown-up people are not strong enough to exult in monotony.

But perhaps God is strong enough to exult in monotony. It is possible that God says every morning, "Do it again" to the sun; and every evening, "Do it again" to the moon. It may not be automatic necessity that makes all daisies alike; it may be that God makes every daisy separately, but has never God tired of making them. It may be that God has the eternal appetite of infancy; for we have sinned and grown old, but our Father is younger than we.
First Reading Job 9:1-15, 32-35
1Then Job answered: 2″Indeed I know that this is so; but how can a mortal be just before God? 3If one wished to contend with him, one could not answer him once in a thousand. 4He is wise in heart, and mighty in strength – who has resisted him, and succeeded? – 5he who removes mountains, and they do not know it, when he overturns them in his anger; 6who shakes the earth out of its place, and its pillars tremble; 7who commands the sun, and it does not rise; who seals up the stars; 8who alone stretched out the heavens and trampled the waves of the Sea; 9who made the Bear and Orion, the Pleiades and the chambers of the south; 10who does great things beyond understanding, and marvelous things without number. 11Look, he passes by me, and I do not see him; he moves on, but I do not perceive him. 12He snatches away; who can stop him? Who will say to him, 'What are you doing?'
13″God will not turn back his anger; the helpers of Rahab bowed beneath him. 14How then can I answer him, choosing my words with him? 15Though I am innocent, I cannot answer him; I must appeal for mercy to my accuser.
32For he is not a mortal, as I am, that I might answer him, that we should come to trial together. 33There is no umpire between us, who might lay his hand on us both. 34If he would take his rod away from me, and not let dread of him terrify me, 35then I would speak without fear of him, for I know I am not what I am thought to be.
Second Reading Acts 10:34-48
34Then Peter began to speak to them: "I truly understand that God shows no partiality, 35but in every nation anyone who fears him and does what is right is acceptable to him. 36You know the message he sent to the people of Israel, preaching peace by Jesus Christ – he is Lord of all. 37That message spread throughout Judea, beginning in Galilee after the baptism that John announced: 38how God anointed Jesus of Nazareth with the Holy Spirit and with power; how he went about doing good and healing all who were oppressed by the devil, for God was with him. 39We are witnesses to all that he did both in Judea and in Jerusalem. They put him to death by hanging him on a tree; 40but God raised him on the third day and allowed him to appear, 41not to all the people but to us who were chosen by God as witnesses, and who ate and drank with him after he rose from the dead. 42He commanded us to preach to the people and to testify that he is the one ordained by God as judge of the living and the dead. 43All the prophets testify about him that everyone who believes in him receives forgiveness of sins through his name."
44While Peter was still speaking, the Holy Spirit fell upon all who heard the word. 45The circumcised believers who had come with Peter were astounded that the gift of the Holy Spirit had been poured out even on the Gentiles, 46for they heard them speaking in tongues and extolling God. Then Peter said, 47″Can anyone withhold the water for baptizing these people who have received the Holy Spirit just as we have?" 48So he ordered them to be baptized in the name of Jesus Christ. Then they invited him to stay for several days.
Gospel Reading John 7:37-52
37On the last day of the festival, the great day, while Jesus was standing there, he cried out, "Let anyone who is thirsty come to me, 38and let the one who believes in me drink. As the scripture has said, 'Out of the believer's heart shall flow rivers of living water.'" 39Now he said this about the Spirit, which believers in him were to receive; for as yet there was no Spirit, because Jesus was not yet glorified.
40When they heard these words, some in the crowd said, "This is really the prophet." 41Others said, "This is the Messiah." But some asked, "Surely the Messiah does not come from Galilee, does he? 42Has not the scripture said that the Messiah is descended from David and comes from Bethlehem, the village where David lived?" 43So there was a division in the crowd because of him. 44Some of them wanted to arrest him, but no one laid hands on him.
45Then the temple police went back to the chief priests and Pharisees, who asked them, "Why did you not arrest him?" 46The police answered, "Never has anyone spoken like this!" 47Then the Pharisees replied, "Surely you have not been deceived too, have you? 48Has any one of the authorities or of the Pharisees believed in him? 49But this crowd, which does not know the law – they are accursed." 50Nicodemus, who had gone to Jesus before, and who was one of them, asked, 51″Our law does not judge people without first giving them a hearing to find out what they are doing, does it?" 52They replied, "Surely you are not also from Galilee, are you? Search and you will see that no prophet is to arise from Galilee."
The repetition in Nature may not be a mere recurrence; it may be a theatrical encore. Heaven may encore the bird who laid the egg. If the human being conceives and brings forth a child instead of bring forth a fish, or a bat, or a griffin, the reason may not be that we are fixed in an animal fate without life or purpose. It may be that our little tragedy has touched the god, that they admire it from their starry galleries, and at the end of every human drama, the human person is called again and again before the curtain.