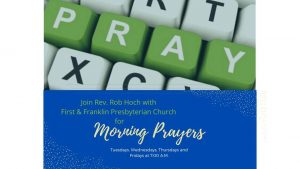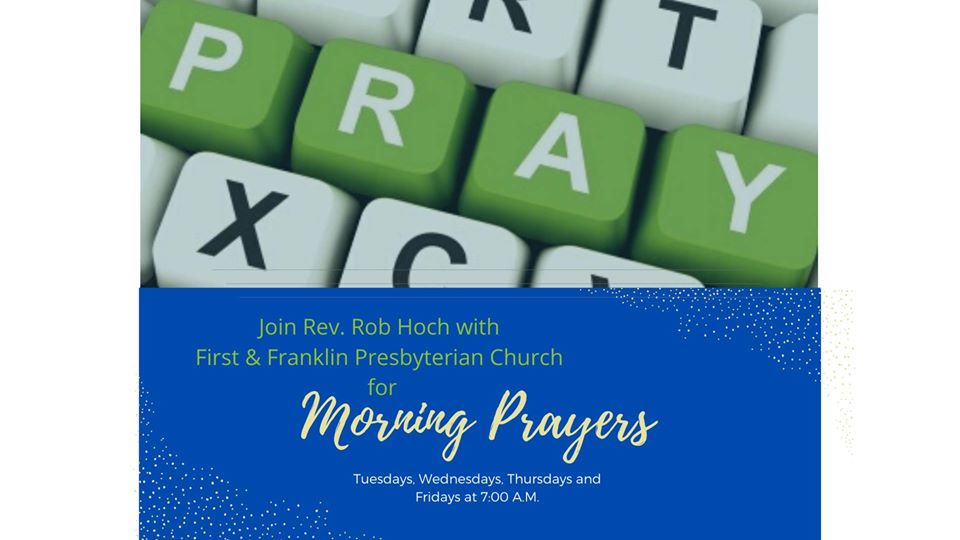 A daily opportunity for community prayer, scripture reading, and meditation. You are invited to join us at 7 a.m. from Tuesday through Friday for a virtual Zoom meeting (please see link information below), in which you may find strength for today and bright hope for tomorrow. The service lasts about 30 minutes.
Zoom Connection:
Daily Readings for Wednesday, September 2, 2020
Morning Psalms 96; 147:1-11
First Reading Job 12:1, 14:1-22
Second Reading Acts 12:18-25
Gospel Reading John 8:47-59
Psalm 96
1 O sing to the LORD a new song;
sing to the LORD, all the earth.
2 Sing to the LORD, bless his name;
tell of his salvation from day to day.
3 Declare his glory among the nations,
his marvelous works among all the peoples.
4 For great is the LORD, and greatly to be praised;
he is to be revered above all gods.
5 For all the gods of the peoples are idols,
but the LORD made the heavens.
6 Honor and majesty are before him;
strength and beauty are in his sanctuary.
7 Ascribe to the LORD, O families of the peoples,
ascribe to the LORD glory and strength.
8 Ascribe to the LORD the glory due his name;
bring an offering, and come into his courts.
9 Worship the LORD in holy splendor;
tremble before him, all the earth.
10 Say among the nations, "The LORD is king!
The world is firmly established; it shall never be moved.
He will judge the peoples with equity."
11 Let the heavens be glad, and let the earth rejoice;
let the sea roar, and all that fills it;
12 let the field exult, and everything in it.
Then shall all the trees of the forest sing for joy
13 before the LORD; for he is coming,
for he is coming to judge the earth.
He will judge the world with righteousness,
and the peoples with his truth.
Morning Psalm 147:1-11
1 Praise the Lord!
How good it is to sing praises to our God;
for he is gracious, and a song of praise is fitting.
2 The Lord builds up Jerusalem;
he gathers the outcasts of Israel.
3 He heals the brokenhearted,
and binds up their wounds.
4 He determines the number of the stars;
he gives to all of them their names.
5 Great is our Lord, and abundant in power;
his understanding is beyond measure.
6 The Lord lifts up the downtrodden;
he casts the wicked to the ground.
7 Sing to the Lord with thanksgiving;
make melody to our God on the lyre.
8 He covers the heavens with clouds,
prepares rain for the earth,
makes grass grow on the hills.
9 He gives to the animals their food,
and to the young ravens when they cry.
10 His delight is not in the strength of the horse,
nor his pleasure in the speed of a runner;
11 but the Lord takes pleasure in those who fear him,
in those who hope in his steadfast love.
Meditation
"Those who live in hope

and see what is happening

cannot be happy.

'Blessed are they who mourn.'"

-Fr. Edicio de la Torre, SVD
First Reading Job 12:1, 14:1-22
1Then Job answered:
1″A mortal, born of woman, few of days and full of trouble, 2comes up like a flower and withers, flees like a shadow and does not last. 3Do you fix your eyes on such a one? Do you bring me into judgment with you? 4Who can bring a clean thing out of an unclean? No one can. 5Since their days are determined, and the number of their months is known to you, and you have appointed the bounds that they cannot pass, 6look away from them, and desist, that they may enjoy, like laborers, their days.
7″For there is hope for a tree, if it is cut down, that it will sprout again, and that its shoots will not cease. 8Though its root grows old in the earth, and its stump dies in the ground, 9yet at the scent of water it will bud and put forth branches like a young plant. 10But mortals die, and are laid low; humans expire, and where are they? 11As waters fail from a lake, and a river wastes away and dries up, 12so mortals lie down and do not rise again; until the heavens are no more, they will not awake or be roused out of their sleep. 13Oh that you would hide me in Sheol, that you would conceal me until your wrath is past, that you would appoint me a set time, and remember me! 14If mortals die, will they live again? All the days of my service I would wait until my release should come. 15You would call, and I would answer you; you would long for the work of your hands. 16For then you would not number my steps, you would not keep watch over my sin; 17my transgression would be sealed up in a bag, and you would cover over my iniquity.
18″But the mountain falls and crumbles away, and the rock is removed from its place; 19the waters wear away the stones; the torrents wash away the soil of the earth; so you destroy the hope of mortals. 20You prevail forever against them, and they pass away; you change their countenance, and send them away. 21Their children come to honor, and they do not know it; they are brought low, and it goes unnoticed. 22They feel only the pain of their own bodies, and mourn only for themselves."
Second Reading Acts 12:18-25
18When morning came, there was no small commotion among the soldiers over what had become of Peter. 19When Herod had searched for him and could not find him, he examined the guards and ordered them to be put to death. Then Peter went down from Judea to Caesarea and stayed there.
20Now Herod was angry with the people of Tyre and Sidon. So they came to him in a body; and after winning over Blastus, the king's chamberlain, they asked for a reconciliation, because their country depended on the king's country for food. 21On an appointed day Herod put on his royal robes, took his seat on the platform, and delivered a public address to them. 22The people kept shouting, "The voice of a god, and not of a mortal!" 23And immediately, because he had not given the glory to God, an angel of the Lord struck him down, and he was eaten by worms and died.
24But the word of God continued to advance and gain adherents. 25Then after completing their mission Barnabas and Saul returned to Jerusalem and brought with them John, whose other name was Mark.
Gospel Reading John 8:47-59
47″Whoever is from God hears the words of God. The reason you do not hear them is that you are not from God."
48The Jews answered him, "Are we not right in saying that you are a Samaritan and have a demon?" 49Jesus answered, "I do not have a demon; but I honor my Father, and you dishonor me. 50Yet I do not seek my own glory; there is one who seeks it and he is the judge. 51Very truly, I tell you, whoever keeps my word will never see death." 52The Jews said to him, "Now we know that you have a demon. Abraham died, and so did the prophets; yet you say, 'Whoever keeps my word will never taste death.' 53Are you greater than our father Abraham, who died? The prophets also died. Who do you claim to be?" 54Jesus answered, "If I glorify myself, my glory is nothing. It is my Father who glorifies me, he of whom you say, 'He is our God,' 55though you do not know him. But I know him; if I would say that I do not know him, I would be a liar like you. But I do know him and I keep his word. 56Your ancestor Abraham rejoiced that he would see my day; he saw it and was glad." 57Then the Jews said to him, "You are not yet fifty years old, and have you seen Abraham?" 58Jesus said to them, "Very truly, I tell you, before Abraham was, I am." 59So they picked up stones to throw at him, but Jesus hid himself and went out of the temple.