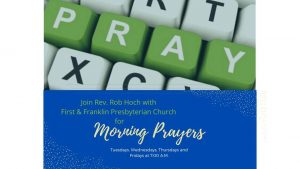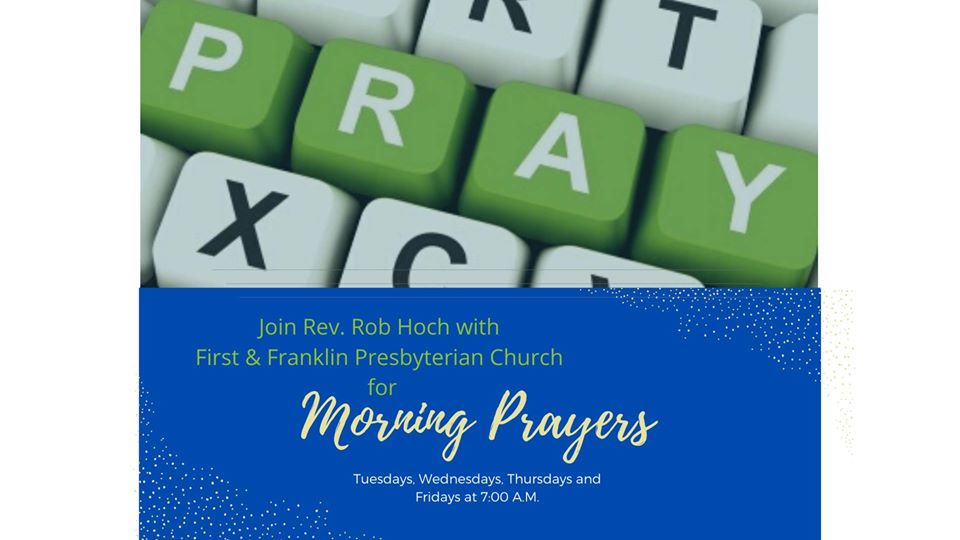 A daily opportunity for community prayer, scripture reading, and meditation. You are invited to join us at 7 a.m. from Tuesday through Friday for a virtual Zoom meeting (please see link information below), in which you may find strength for today and bright hope for tomorrow. The service lasts about 30 minutes.
Zoom Connection:
Daily Readings for Thursday, September 3, 2020
Morning Psalms 116; 147:12-20
First Reading Job 16:16-22, 17:1, 17:13-16
Second Reading Acts 13:1-12
Gospel Reading John 9:1-17
Morning Psalm 116
1 I love the LORD, because he has heard
my voice and my supplications.
2 Because he inclined his ear to me,
therefore I will call on him as long as I live.
3 The snares of death encompassed me;
the pangs of Sheol laid hold on me;
I suffered distress and anguish.
4 Then I called on the name of the LORD:
"O LORD, I pray, save my life!"
5 Gracious is the LORD, and righteous;
our God is merciful.
6 The LORD protects the simple;
when I was brought low, he saved me.
7 Return, O my soul, to your rest,
for the LORD has dealt bountifully with you.
8 For you have delivered my soul from death,
my eyes from tears,
my feet from stumbling.
9 I walk before the LORD
in the land of the living.
10 I kept my faith, even when I said,
"I am greatly afflicted";
11 I said in my consternation,
"Everyone is a liar."
12 What shall I return to the LORD
for all his bounty to me?
13 I will lift up the cup of salvation
and call on the name of the LORD,
14 I will pay my vows to the LORD
in the presence of all his people.
15 Precious in the sight of the LORD
is the death of his faithful ones.
16 O LORD, I am your servant;
I am your servant, the child of your serving girl.
You have loosed my bonds.
17 I will offer to you a thanksgiving sacrifice
and call on the name of the LORD.
18 I will pay my vows to the LORD
in the presence of all his people,
19 in the courts of the house of the LORD,
in your midst, O Jerusalem.
Praise the LORD!
Morning Psalm 147:12-20
12 Praise the Lord, O Jerusalem!
Praise your God, O Zion!
13 For he strengthens the bars of your gates;
he blesses your children within you.
14 He grants peace within your borders;
he fills you with the finest of wheat.
15 He sends out his command to the earth;
his word runs swiftly.
16 He gives snow like wool;
he scatters frost like ashes.
17 He hurls down hail like crumbs —
who can stand before his cold?
18 He sends out his word, and melts them;
he makes his wind blow, and the waters flow.
19 He declares his word to Jacob,
his statutes and ordinances to Israel.
20 He has not dealt thus with any other nation;
they do not know his ordinances.
Praise the Lord!
Meditation
. . . The real problem of the Christian life comes where people do not usually look for it. It comes the very moment you wake up each morning. All your wishes and hopes for the day rush at you like wild animals. And the first job each morning consists simply in shoving them all back; in listening to that other voice, taking that other point of view, letting that other larger, stronger, quieter life come flowing in. And so on, all day. Standing back from all your natural fussing and frettings; coming in out of the wind.
C.S. Lewis, Mere Christianity
First Reading Job 16:16-22, 17:1, 17:13-16
16My face is red with weeping, and deep darkness is on my eyelids, 17though there is no violence in my hands, and my prayer is pure. 18″O earth, do not cover my blood; let my outcry find no resting place. 19Even now, in fact, my witness is in heaven, and he that vouches for me is on high. 20My friends scorn me; my eye pours out tears to God, 21that he would maintain the right of a mortal with God, as one does for a neighbor. 22For when a few years have come, I shall go the way from which I shall not return.
1My spirit is broken, my days are extinct, the grave is ready for me.
13If I look for Sheol as my house, if I spread my couch in darkness, 14if I say to the Pit, 'You are my father,' and to the worm, 'My mother,' or 'My sister,' 15where then is my hope? Who will see my hope? 16Will it go down to the bars of Sheol? Shall we descend together into the dust?"
Second Reading Acts 13:1-12
1Now in the church at Antioch there were prophets and teachers: Barnabas, Simeon who was called Niger, Lucius of Cyrene, Manaen a member of the court of Herod the ruler, and Saul. 2While they were worshiping the Lord and fasting, the Holy Spirit said, "Set apart for me Barnabas and Saul for the work to which I have called them." 3Then after fasting and praying they laid their hands on them and sent them off.
4So, being sent out by the Holy Spirit, they went down to Seleucia; and from there they sailed to Cyprus. 5When they arrived at Salamis, they proclaimed the word of God in the synagogues of the Jews. And they had John also to assist them. 6When they had gone through the whole island as far as Paphos, they met a certain magician, a Jewish false prophet, named Bar-Jesus. 7He was with the proconsul, Sergius Paulus, an intelligent man, who summoned Barnabas and Saul and wanted to hear the word of God. 8But the magician Elymas (for that is the translation of his name) opposed them and tried to turn the proconsul away from the faith. 9But Saul, also known as Paul, filled with the Holy Spirit, looked intently at him 10and said, "You son of the devil, you enemy of all righteousness, full of all deceit and villainy, will you not stop making crooked the straight paths of the Lord? 11And now listen – the hand of the Lord is against you, and you will be blind for a while, unable to see the sun." Immediately mist and darkness came over him, and he went about groping for someone to lead him by the hand. 12When the proconsul saw what had happened, he believed, for he was astonished at the teaching about the Lord.
Gospel Reading John 9:1-17
1As he walked along, he saw a man blind from birth. 2His disciples asked him, "Rabbi, who sinned, this man or his parents, that he was born blind?" 3Jesus answered, "Neither this man nor his parents sinned; he was born blind so that God's works might be revealed in him. 4We must work the works of him who sent me while it is day; night is coming when no one can work. 5As long as I am in the world, I am the light of the world." 6When he had said this, he spat on the ground and made mud with the saliva and spread the mud on the man's eyes, 7saying to him, "Go, wash in the pool of Siloam" (which means Sent). Then he went and washed and came back able to see. 8The neighbors and those who had seen him before as a beggar began to ask, "Is this not the man who used to sit and beg?" 9Some were saying, "It is he." Others were saying, "No, but it is someone like him." He kept saying, "I am the man." 10But they kept asking him, "Then how were your eyes opened?" 11He answered, "The man called Jesus made mud, spread it on my eyes, and said to me, 'Go to Siloam and wash.' Then I went and washed and received my sight." 12They said to him, "Where is he?" He said, "I do not know."
13They brought to the Pharisees the man who had formerly been blind. 14Now it was a sabbath day when Jesus made the mud and opened his eyes. 15Then the Pharisees also began to ask him how he had received his sight. He said to them, "He put mud on my eyes. Then I washed, and now I see." 16Some of the Pharisees said, "This man is not from God, for he does not observe the sabbath." But others said, "How can a man who is a sinner perform such signs?" And they were divided. 17So they said again to the blind man, "What do you say about him? It was your eyes he opened." He said, "He is a prophet."