We are excited to offer rental space for mission groups, traveling choirs, retreats, meetings, baby showers, wedding shower, rehearsal dinners, and small receptions at reasonable rates. Situated in Baltimore's historic, centrally located Mt. Vernon neighborhood, it is easy access to Inner Harbor, numerous cultural attractions, and shops.
The campus includes our magnificent First & Franklin Gothic Revival Church; Backus House, an elegant Victorian mansion; Reid Memorial Chapel, a Tudor Gothic interior; and Residences at First & Franklin a retreat center located in historic Hodge House.
2 blocks from Charles Street Purple Route of Charm City Circulator (free bus)
2 blocks from Center Street Light Rail stop
BWI airport to Center Street Light Rail stop approx. 40 minutes.
Penn Amtrak Station to Center Street Light Rail stop approx. 10 minutes Please contact our offices for more information about rental spaces and rates. (include hyperlink to the contact page).
Backus House
Whether you are looking to celebrate a baptism, marriage, or the life of a loved one, Backus House is the perfect venue for intimate gatherings. A beautiful Victorian mansion adjacent to First and Franklin's church building, Backus House's elegant spiral staircase, hand-carved mantels, original crystal chandeliers, and garden courtyard serve as the perfect backdrops for photos. With seated space for 40 and standing room for 60, it is ideal for those events that you hold most dear.
Interior Photos
click to enlarge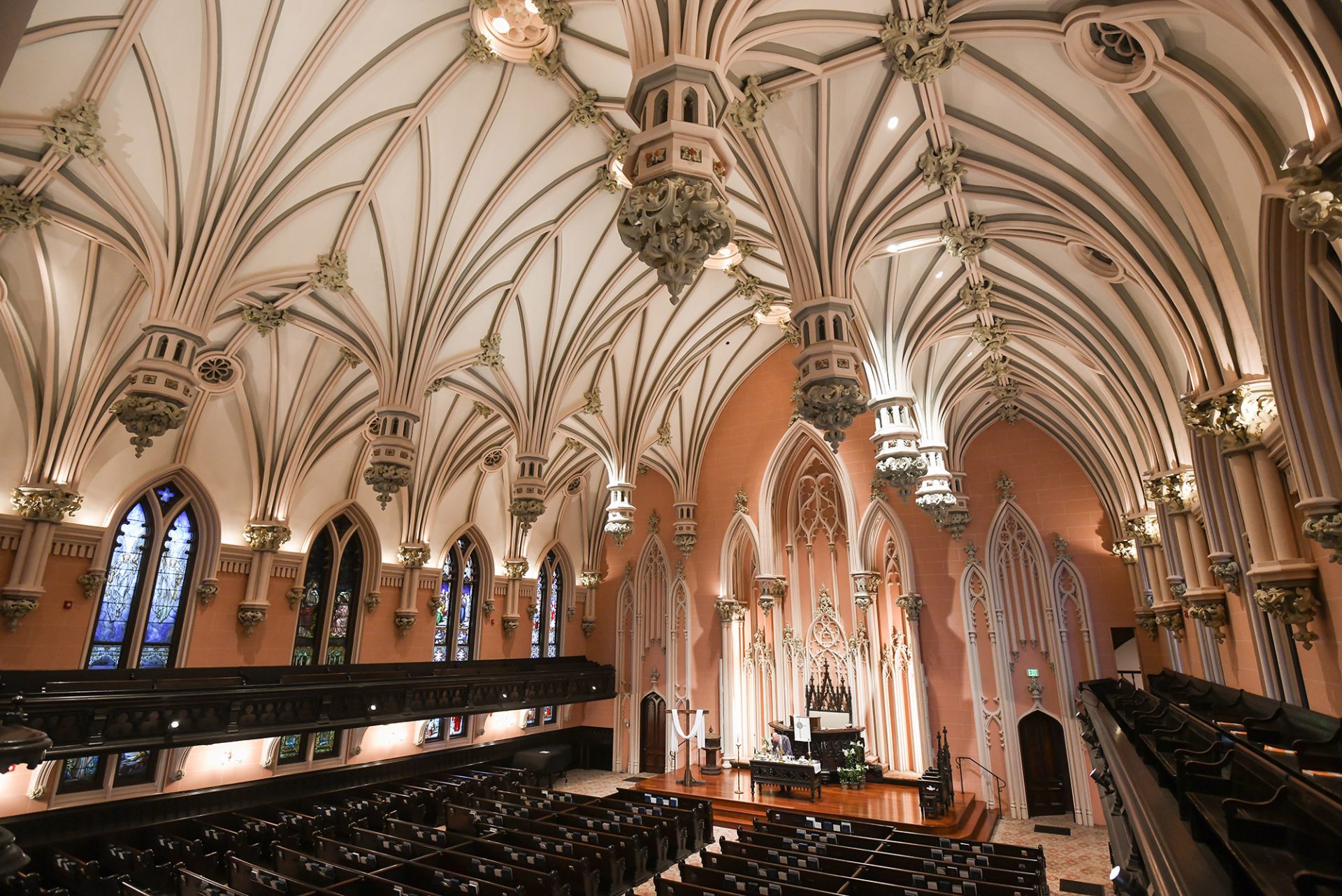 Reid Memorial Chapel
Reid Memorial Chapel's Tudor Gothic interior is perfectly sized for parties of up to 85 standing and 60 seated. With its rich carved oak paneling and exquisite stained glass windows, the Chapel is ideal for your intimate gatherings to celebrate any occasion. With access to the garden courtyard, an interior sound system, and WiFi, you and your guests will experience timeless elegance with modern amenities.
Photos
click to enlarge
Residences at First & Franklin
With two bright and airy dormitories complete with en suite bathrooms, a large dining hall and meeting room, lounge area, and a home-style kitchen complete with granite countertops, Historic Hodge House is the perfect retreat center for your traveling choir, retreat group, and mission groups. With space for 40 overnight, this historic parish house is sure to enrich your stay as you fulfill your purpose for retreat. Fully ADA compliant. Contact us for information about rentals.
Historic Hodge House
click to enlarge